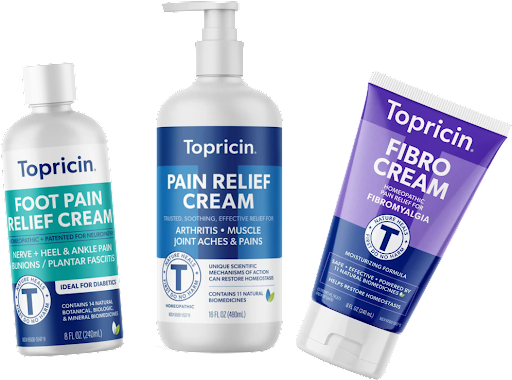 What Real Topricin Users Say
Miraculous Product!
Have been using Topricin Foot Therapy Cream for several years! It provides significant relief for both an arthritic knee as well as a peripheral neuropathy condition in both of my feet!
- Zarko
Really works!
Love this product! I use it for sciatica nerve pain, carpel tunnel numbness and pain, lower back pain, and arthritis pain in my hands. It is fast working, odorless, and greaseless. I highly recommend it!
- Jill S.
I recommend this to everyone with Fibromyalgia!
…I've had fibromyalgia for years and this is by far the best product to use. I recommend it to everyone! A must [buy]!...
- Jenny
Odorless
Non-greasy

Moisturizing
Safe for Pregnancy
Safe for kids

Safe for Diabetics